Medical Titanium Staples 

Lee Spring supplies medical and pharmaceutical springs for many applications. Medical staples, often not considered to be a spring, share many spring like qualities. The manufacturing process and techniques required to make a high quality medical staple are very similar to those needed to manufacture a traditional spring. Lee Spring can manufacturer titanium medical staples, a core component used in medical stapling procedures. Lee Spring's quality systems and medical industry experience ensure that Lee Spring can manufacture a high quality medical staple, manufactured to exacting specifications.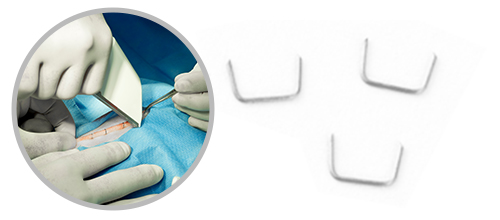 The Lee Spring engineering and technical staff can assist with design and manufacturing assistance. Lee Spring has worked with a number of medical stapler suppliers to design and deliver the highest quality products. For over a decade, Lee Spring has produced millions of medical titanium staples to the medical industry. Medical staplers are mainly divided into two primary types, skin staplers and digestive tract staplers. Digestive tract staplers are often used for esophagus, gastrointestinal, and vascular applications.
Application Case for Titanium Medical Staples
Project Type: Medical Spring (Medical Equipment)
Project Name: Titanium staples and springs for medical staplers
Case Purpose: To provide high quality products that meet international standards and are priced economically.